About 'Tis But A Dream:
When ambitious and talented Snow Donovan finds the job of her dreams, she thinks she has finally found her fairy-tale ending. The right job, the ultimate home and financial security.
However, a hostile supervisor is all set to shatter her aspirations. Snow is unprepared for not only the hostility but also the irresistible attraction she feels for Richard Wilder, a dynamic and successful business-man who is committed to protect her at all cost. Will Snow be able to control her attraction to him and keep things professional or will she finally give in and find her true "happily ever after?"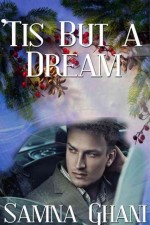 About Samna Ghani:
Samna Ghani is a published author. She writes romance novels and adventure stories for children. She also works as a creative writer and is an active member of the Mississauga Writers Group, Canada. Her work has been featured on several online platforms including Yahoo, Capital Liberty News and Career Addict.
Samna has a passion for books and reads everything and anything under the sun. She has been writing since she was a young girl and her dream to become a published author finally came true in 2010.
Now, Samna wants to write the kind of romance novels she would like to read. Her passion for writing has been inspired by the works of classic authors including Jane Austen, Georgette Heyer and P.G. Wodehouse. Samna firmly believes that she would not be an author today without the inspiration she derived from these three literary icons.

Website:  http://samnaghani.webs.com/ 

Where you can find 'Tis But A Dream:http://www.amazon.com/Tis-but-Dream-Samna-Ghani-ebook/dp/B00P7284KO/

About Books To Go Now: https://bookstogonow.com/Books to Go Now's Mission:
Support our Authors. Promote their Works. Help them to Achieve Success.
Our staff works one-on-one with our authors to help them to create wonderful works of fiction. Upon publication we use a successful multi-platform strategy to promote and market their work. Our staff has helped many authors become International and Domestic Bestsellers.
Books to Go Now offers professional editing, cover design, multiple book format file creation, and most important—publicity. Our staff works to help make our author books a success one book at a time.